A recent find of dinosaur fossils in Spain which is around 122 million years old. This recently identified species, named "Garumbatitan morellensis", was discovered during excavations at the Sant Antoni de la Vespa fossil site near the city of Morella.
The discovery reveals that a never-before-seen sauropod roamed once roamed in Spain. The distinctive bone structure of this newly described titan suggests its primitive nature.
These massive, long-necked dinosaurs walked on four legs, featuring incredibly long necks and tails and were immense herbivorous such as Diplodocus and Brachiosaurus.
Among them, G. morellensis belonged to a group called "Titanosaurs". They are the largest sauropods ever known. They are also the only ones to survive until the asteroid impact that wiped out the dinosaurs around 66 million years ago.
The precise size of G. morellensis remains uncertain based on the available bones. Its vertebrae measured over 3 feet wide, and its thigh bone reached a length of more than 6 1/2 feet.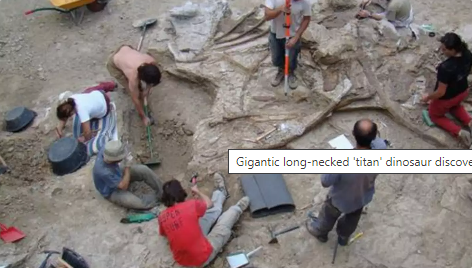 The shape of its leg and foot bones classifies G. morellensis among a group of sauropods known as Somphospondyli, one of the more ancient types within this category, including titanosaurs and other long-necked sauropods like Brachiosaurus.
Their original homeland has remained unclear. However, Fossils from Somphospondylans, a dinosaur group, have been discovered on all continents today.
In 2022, scientists unveiled remains of a massive unidentified sauropod in Portugal, which could potentially be Europe's largest dinosaur fossil identified to date, dating back 150 million years.