Frankfurt Motor Show 2019 unveiled Land Rover Defender and Jaguar XJ all-electric which are likely to launch on the roads by 2020.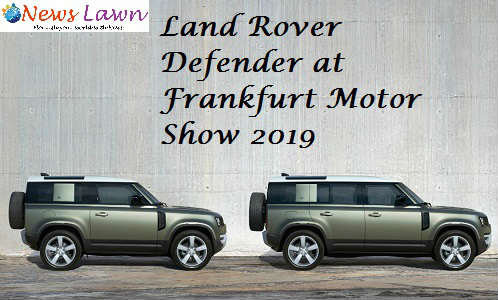 The new Land Rover Defender SUV has the stiffest body structure ever produced by the company. D7x engineered architecture is based on a lightweight aluminium monocoque construction for this stiff body structure. It is 3 times stronger than the present body structure.
The traditional design is maintained for the new Land Rover Defender SUV 110 family that supports the latest electrified powertrains.
Some of the features include Permanent all-wheel drive, twin-speed automatic gearbox, intelligent Auto function, Land Rover's new Pivi Pro infotainment system, and the next-generation touchscreen is intuitive and user-friendly.
The new Defender takes Software-Over-The-Air (SOTA) technology is an addition to the new levels of technological advancement.
14 individual modules capable of receiving remote updates through immediate data download will enable the user to cascade electronic updates without visiting a Land Rover retailer.
New Defender at launch, will configure 4 cylinder types of diesel – the D200 and powerful D240 engines along with the petrol line-up – 4 cylinder P300 and a powerful 6 cylinder P400 engines.
Land Rover Defender 110 SUV offers 5, 6 and 5+2 seating configurations with a loadspace of up to 1,075 litres at the second-row and up to 2,380 litres when the second row is folded.
Jaguar's flagship sedan XJ is expected to be launched with full electrification. During 2019 Frankfurt Motor Show Jaguar new-gen XJ, for the first time officially announced about the upcoming sixth-generation XJ.
A four-electric motor architecture is an all-new MLA platform that supports all-wheel-drive. With the 90kWh battery pack, new Jaguar XJ produces an output of 400 horsepower and 700Nm of torque.
The battery is expected to have a range of 350 kilometres approximately. The new-gen Jaguar XJ is expected on roads likely bu the end of this year may in 2020. But the company has assured that the Jaguar XJ will be on the streets before 2021.
The company also revealed that the regular non-electric version vehicles will exist in the market along with the new-gen XJ electric vehicles.
It is estimated that the new Jaguar XJ will be a tough or competitor Porsche Taycan, Audi E-Tron GT, Tesla Model S and Mercedes-Benz EQS.