The Russia-Ukraine war enters its 266th day. Here is the list of main developments.
Here is the situation as it stands on Wednesday, November 16.
Russia hits Ukrainian cities with a wave of missiles on November 15. About 100 missiles were fired by Russian forces.

Ukrainian President Volodymyr Zelenskyy said that these attacks targeted Ukraine's energy infrastructure's collapse.

Missiles hit cities – the capital, Kyiv, Lviv and Rivne in the west, Kharkiv in the northeast, Kryvyi Rih and Poltava in the centre, Odesa and Mykolaiv in the south, and Zhytomyr in the north.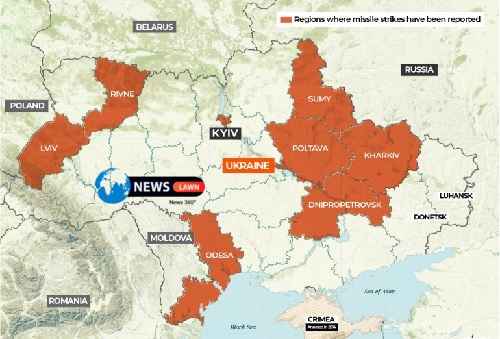 Russia hits Ukrainian cities
The attacks had knocked out electricity supplies.

The latest attacks are a clear attempt by Russia to weaponise the coming winter. The temperature is set to hit minus six [degrees Celsius – 21 Fahrenheit] later this month.

Zelenskyy urges G20 to adopt a plan to end Russia's war.
The barrage of attacks came leaders of the Group of 20 nations met in Bali for a summit dominated by Moscow's war on Kyiv.

Explosion in Poland – A Russian-made missile hit Poland causing an explosion killed 2 people.
Poland's President Andrzej Duda blame Russia.

NATO called an emergency meeting to discuss the explosion and possible next steps.

Russia is now engaged in a defensive operation in Ukraine following its withdrawal from Kherson city.

Zelenskyy promised to reclaim all of Ukraine's occupied territory.

Still, large parts of eastern and southern Ukraine remain under Russian control.
United Nations High Commissioner for Human Rights said – Both Russia and Ukraine have tortured prisoners of war during the conflict in Ukraine.

The EU ramped up its support to Ukraine by launching a military assistance mission.

About 15,000 Ukrainian soldiers will be trained in different European member states.

NATO chief-General Jens Stoltenberg assesses Russia and hints at its significant capabilities, as well as a large number of troops.

Stoltenberg added Russia has demonstrated the willingness to bear significant losses and We should not make the mistake of underestimating Russia.