Few Schools and government offices have opened today in Srinagar. As per the Deputy Commissioner of Srinagar, only 196 primary schools out of 900 were opened.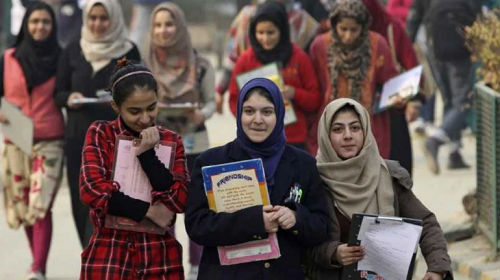 In a statement issued by the Deputy Commissioner of Srinagar, Shahid Iqbal,
"We have opened schools only in some areas after reviewing security there. We appeal to parents to send their children wherever schools have been reopened. Security is our responsibility,"
Almost all the private schools in Srinagar did not reopen following the restrictions as violent protests took place over the past 2 days.The violent incidents were admitted by the Jammu and Kashmir principal secretary, Rohit Kansal.
On the other hand, the lockdown of facilities like Internet or phones or people coming out of the house. adviser to Jammu and Kashmir Governor, K Vijaya Kumar, has stated that these restrictions were being imposed keeping in view of the situation.
He reminded about the past,
"In 2010, around 110 people died. This time, we were sure we wanted to save as many lives as possible,"

"There were greater restrictions in 2016. Wherever the bigger congregations were likely, we restricted them."
He further stated that the relaxation would be 100% as the situation get normal in the valley. It is evident that last week Eid festival also could not be celebrated due to these restrictions.
For more than 70 years, the problem of Jammu & Kashmir has been existing. According to a survey nearly 42,000 people lost their lives. Apart from this, many Kashmiri Pandits were forced to leave the valley due to fear. Article 370 has led to separatism. Sheikh Abdullah was imprisoned for 11 years during this special status.
On the other side, Pakistan's Prime Minister, Imran Khan, has stated that India's Nuclear Arsenal is in wrong hands. This directly hints at Narendra Modi's government. Keeping Kashmir as the main agenda, Imran Khan tweeted –
"The World must also seriously consider the safety & security of India's nuclear arsenal… This is an issue that impacts not just the region but the world."
After revoking Article 370 Pakistan and India's relations are once again in havoc. India has issued a statement that Indian Army is fully prepared to meet any situation from across the border, pointing Pakistan.
However, it is better that the Kashmir issue gets a dissolved and peace returns to the valley.