On Wednesday, the 11th of December 2019, around 98% of Bougainville people voted in favour of Independence from Papua New Guinea to become a new nation.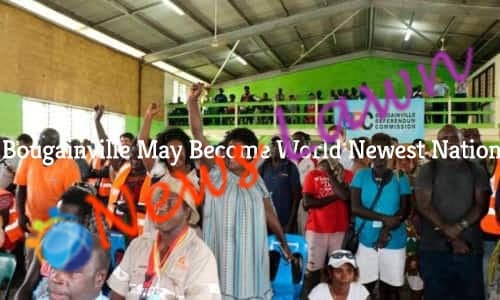 In a referendum conducted by the Bougainville Referendum Commission, the nation's people have opted for an independent country. The commission chairman Bertie Ahern is overwhelmed with joy while announcing the results.
United Nations resident coordinator in Papua New Guinea, Gianluca Rampolla said about the referendum as –
inclusive and peaceful conduct of the Bougainville Referendum.

There are ways to go, and like all paths it may be neither smooth nor straight, but the United Nations will continue to be there as the two governments map their future, together,
The people of Bougainville were given a choice to choose between Autonomy and Independence options. The majority of people have chosen the second option.
However, there is no compulsion for the Papua New Guinea government to implement the results. it is evident that Bougainville suffered from years of Civil war which started in the late 1980s and ended in the year 2001.
Nearly 15,000 people got killed in years of civil violence. The base of the violence is the presence of copper mine at Panguna. Papua New Guinea utilized Panguna Copper Mines as the main exporting income for the country. But as the conflict aroused over this, the mines were shut down. At the time of civil war, Bougainville's people felt that their wealth is being exploited and pollution is being spread. They also alleged Papua New Guinea administration for disrupting their tradition while exploiting the copper mines.
Now, if Bougainville is declared as the new nation, then the same mines may become the major source of wealth creator for the country.