On Wednesday, Bogota streets were filled with thousands of people which included teachers, Union members and indigenous people participating in a strike against Duque's policies.
Colombia President Ivan Duque was accused of the killing of human rights activists in recent times. Many people strongly believe that just because of the Duque's policies, the brutality of police has increased.
Despite the government's warnings for no gatherings in the name of Coronavirus pandemic, the people have come out of streets to protest against President's policies. The protestors were holding placards and slogans touched sky high.

We're not scared of coronavirus. We're scared of going back to our territories without getting a dialogue with the president.

Not even the pandemic will stop our movement,

We're asking for no more massacres against our indigenous leaders,
Bogota mayor Claudia Lopez tweeted –
We are grateful to the minga for the great example it gave to the city and to the social organizations who have followed it,
Sporadic series of protests have started from last year itself. The continued demonstrations have sparkled in September after the death of 13 people because of police brutality.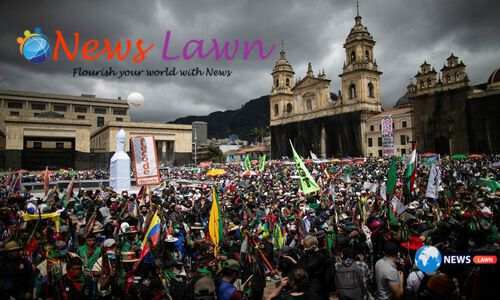 Colombia was under COVID-19 lockdown for more than 5 months. It has already 1 million infected cases by this weekend. Some of the analysts say that this figure might top the list for most infections in the country.

The protestors were demanding for more health and education funding, stopping of violence based on genders. A major demand that has ignited during the pandemic is the guaranteed income for the jobless because of Coronavirus lockdowns. Apart from these demands, the demonstrators are also demanding a variety of concessions from the government.
The overall situation has remained peaceful while demonstrations took place. Most of the people were seen going back by Wednesday afternoon after demonstrations.