After nearly 5 months of pro-democracy unrest in Hong Kong, the security chief will formally announce the extradition bill's withdrawal in the city's legislature.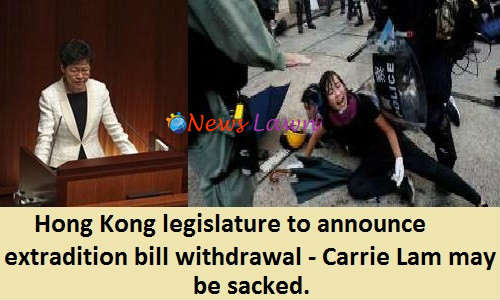 Chaotic protests sparked in Hong Kong city when the Chief Executive Carrie Lam proposed amendments to resolve a case related to a man involved in a murder in Taiwan. Lam proposed amendment facilitates sending the accused Hong Kong residents to mainland China for judicial proceedings.
But the proposal faced fierce opposition from the Hong Kong citizens as they feared that in future the risk of sending the residents to the mainland in the name of Judicial may cause troubles.
Hence, Lam was forced to drop the bill. But the bill was not withdrawn in the legislature as per the procedure. Though Lam has declared as the bill "dead", protests broke out and attained international attention.
The widespread fears turned into violent protests in Hong Kong that are lasting for 20 weeks. The central government in China has supported Lam for her actions in curbing the protests using the Police force. But it seems that Bejing is thinking of an alternative for Carrie Lam. Some of the reports in Chinese media suggest that Chinese President Xi Jinping has decided to replace Hong Kong Chief Executive Carrie Lam.
Already there are some suggesting names for the post which include the former head of the Hong Kong Monetary Authority, Norman Chan and the territory's financial secretary and chief secretary for administration, Henry Tang.
If the sacking of Lam turns to be true, then the new leader would be appointed by March 2020. Lam faced severe criticism for calling the demonstrators as rioters. She also banned Masks as the protestors used them for not identifying them during the demonstrations. Basing this, the release of the Hollywood movie "Joker" was halted in Hong Kong.