As the number of Coronavirus infected cases are increasing, Indian Prime Minister, Narendra Modi has announced the self imposition of Curfew.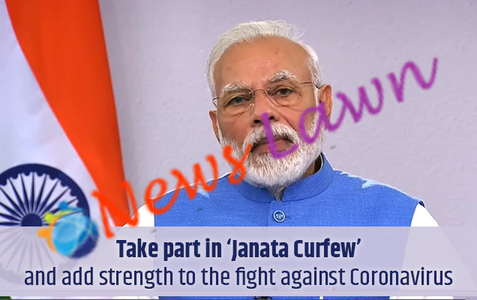 Addressing the nation on Wednesday and Thursday, Modi has assured the citizens that the situation is being monitored on a daily basis and efforts to control the spread are in action.
Modi also urged people of the nation to remain inside houses unless there is a necessity to go outside. He stated that the coming 15 days are crucial for India in combating the deadly virus from spreading. Officials were given directions for taking necessary steps to contain the spread of COVID-19.
Respective state governments were also directed to take precautions in identifying and treating the infected persons with immediate medical facilities.
Though India had imposed travel ban from Mach 13th, 2020, the infected persons have entered India and the Coronavirus has started to spread in the country. Keeping in view the speed of the spread of Coronavirus. PM Modi has announced March 22nd as 'Janata Curfew'. It means that the citizens should remain inside their houses without wondering outside and gathering as crowds. Many shopping malls, theatres, and commercial places will remain closed in view of Janatha Curfew.
This step will initiate the stop of the virus to some extent. Many precautions have been already announced by the Government of India's Health Ministry relating to Coronavirus.
As of now, the number of Coronavirus infected persons has been growing at a rapid speed. the toll has crossed 250. Though the mortality rate in India is very low when compared to world countries, the situation is alarming.
Finance Minister, Nirmala Sitharaman stated that the respective state governments should be prepared for announcing the financial packages to stop the Coronavirus spread. Many states and banks have announced that their employees were given permission to work from homes.