Without naming China, the Indian government has imposed a ban on 59 Chinese mobile apps which are very popular in India.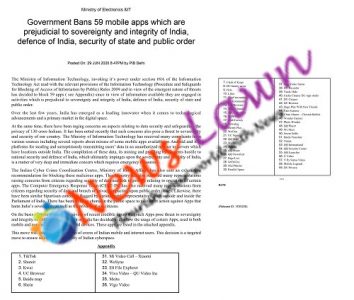 Last night Ministry of Information Technology issued orders to ban 59 Chinese mobile apps stating that these apps
are prejudicial to re prejudicial to sovereignty and integrity of India, defence of India, security of state and public order,
In the govt. issued order an appendix of the mobile apps banned were stated clearly. Further, there were recommendations from the Indian Cyber Crime Coordination Centre of Home Ministry along with the Computer Emergency Response Team (CERT-IN) has raised questions regarding the data and security of the users.
India is one of the major users of Chinese apps due to which a large portion of income is being derived. Many famous apps like TikTok, ShareIt, and Helo app are among the banned list.
Amid tensions between India and China, China has imposed an undeclared travel ban for India visiting China. Many prominent personalities were denied Visas. On the other hand, there seem to be preparations from China in escalating the border tensions with India.
To counter the activities by China, India is also reacting sharply. India has moved its military troops along the border to contain China's evil intentions. Many world countries including the United States, Germany and France have already warned China and supported India. To China's surprise, North Korea has also announced its full support to India in case of war with China.
As a step to diminish the tensions along the India China border, both the country's Lt. Generals are scheduled to meet today. Earlier discussions did not yield any fruitful results in reducing the border tensions. Though China has implemented unlawful tactics, India has been observing them closely and relevant plan of action has been prepared as per the Indian Army personnel.