Nithyananda, Self-styled Godman has been absconding from India since he is charged with rape and abduction cases in Karnataka and Gujarat courts.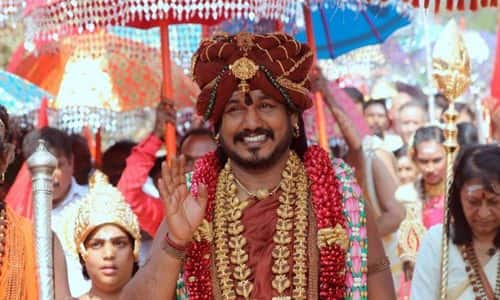 Nithyananda is in news for the past few days. In his latest video which has become viral in social media indicates him as God – Parama Shiva.
In a 1.45 mins video, one can hear him stating that he himself is Indian God "Parama Shiva".
Here is the video of Nithyananda which has become viral in which he declared himself as God Param Shiva
"No judiciary can touch me. M param shiva"
: #NithyanandaSwami from an undisclosed location. pic.twitter.com/WXdZ6bGCdO

— Divesh Singh (@YippeekiYay_DH) November 22, 2019
In this video, one can hear  Nithyananda saying that he himself is God Param Shiva and he can make people overcome death. He talks about transformation during death time and some more things.
He also expressed his confidence regarding the legal system. He openly stated that 'No court' can prosecute him for truth and he himself will deliver the truth. He also acknowledged that he will be always there for his devotees.
India has declared that Nithyananda is absconding from India and his plea for a fresh and new Passport has been denied. Though his passport was cancelled before the expiry, Nithyananda managed to leave the country happily. Nithyananda is accused of rape and abduction charges in Karnataka Court. Also, he was red-handedly found romancing with one of the South India actress. That video also got viral in those days. After that incident, he kept calm for a few years without publicizing himself.
On Dec 6, 2019, the Indian ministry of external affairs spokesperson Raveesh Kumar briefed media regarding the steps that are being taken by the government to catch Nithyananda. He said
We have sensitised all our missions and posts and told them to inform local governments about him,
Earlier on the same day, there was a news that the self-godman has declared setting up a new Nation called "Kailaasa" in South American country – Ecuador. An official website was also published which indicated the Nation's flag, missions, and other activities. The website furnished the Kailaasa Nation's government policies and the applying to get landed in its territory (like applying for passports etc).
However, the Ecuadorian government has denied granting asylum to Nithyananda nor helping him providing any land in its territory. Also, it announced that Nithyananda had flown to Caribbean Country Haiti.