Indian Air Force has announced an High alert at all the Army Air Force Bases as there are intelligent reports of a suicide attack threat from JeM.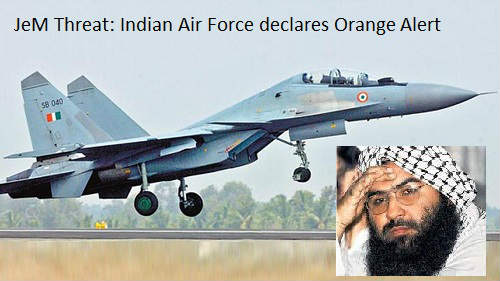 As per the government sources, Intelligence inputs suggest a possibility of attacks on India Air bases by the Pakistan based terrorists group Jaish-e-Mohammed (JeM). Mainly the targest may be the air bases that are in and around Jammu and Kashmir.
The Indian Intelligence also hinted that around 8 to 10 terrorists may try to carry out suicide attacks on IAF Air Bases. Hence, an Orange alert has been declared at all the Air Bases. Orange Alert is the second highest level where the movement of people near the army camps and important places may be restricted.
Two days earlier, Indian Army Cheif, General Bipin Rawat stated that the terrorists camp at Balalkot in Pakistan has been reactivated. It was destroyed by the IAF in February 2019 as a part of surgical strikes.
The threat also holds importance as the Pakistan government has released JeM cheif Maulana Masood Azhar from custody a few days back. The release has come just days after India scrapped Article 370 in Kashmir and declared Laddak as Union territory.
Also, in August 2019, Pakistan deployed its Special Service Group commandos along the border with India near Gujarat.
All these can be seen as inter-linked as the JeM has actively planning attacks in India. According to Indian Army there were several failed infiltration attemps made by the Pakistani terrorists.
On the other side, Pakistan Prime Minister himself has admitted that Islamabad has failed to pressurize India related to Kashmir Issue internationally. Putting a step forward, Pakistani Internal Affairs Minister has stated that the world countries believe India when compared to Pakistan.
On many occassions India has declared that it is fully prepared to face and retaliate any attempt made by its enemies at any point of time.