On October 2nd, 2019, Microsoft has unveiled its new smartphone with twin-screens at a New York event. It is named as Surface Duo and expected to be in markets by next year.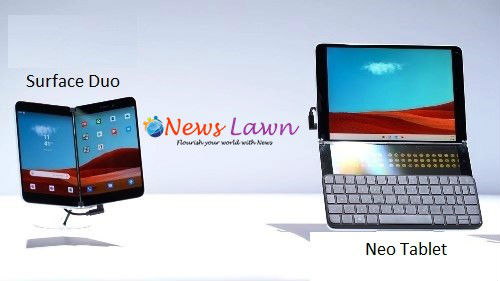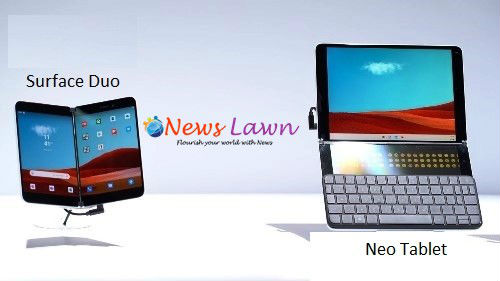 Surface Duo smartphones can make telephone calls and they run applications that are designed for Google-backed Android.
Microsoft's Surface Duo Smartphone consists of 2 screens which open like a notebook. The size of the smartphone is off like a notepad. It is built on 855 Qualcomm Snapdragon Processor and a Front Camera. The company has described the latest smart gadget as a new category device.
Though complete features and specifications of Surface Duo have not been revealed, it is assumed to have Two foldable 5.6″Inch Screens through which one can make telephone calls and text messages.
At the event of Surface, Microsoft chief product officer Panos Panay said
You are going to talk about it as a phone, and I get that,

You can text; you can write; you can do what you want, make no mistake this product is a Surface.
The tech titan has unveiled its latest lineup of Surface computing devices which include a separate foldable Neo tablet apart from Surface Duo.
At the Surface event, Microsoft chief executive Satya Nadella said
We wanted to build experiences that span all devices in our lives,
In the past, Microsoft had made its exit from the smartphone market as it could not make an impressive mark. The major drawback of the failure was its own OS for its smartphones. Tech giants like Google and Apple has given a tough competition for the Microsoft brand smartphones.
Microsoft acquired the smartphone business from Nokia. After Microsoft's failure in the smartphone market it again handed over the brand to Nokia. Now, Nokia's smart mobiles are in existence.
Microsoft has earned good profits in its other products like the Operating Systems, Cloud Computing, Xbox gaming, bing Search engine, Surface Tablets and PCs, Social Net and other business services.
Surprisingly, Microsoft has released the latest gadgets that run on Android OS, unlike the past ideology.