Myanmar, a country with 54 million people has elected Ms Suu Kyi as their leader in the 2020 elections held in November.
But now there is a sudden military coup In Myanmar saying that election in November had been fraudulent. However, the country's election commission said there was no evidence of such fraud.
The military coup In Myanmar coup is led by the chief of the armed forces, Min Aung Hlaing. He further installed an 11-member junta.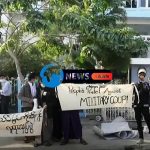 The elected civilian leader, Aung San Suu Kyi and President Win Myint were detained on Wednesday and police also filed charges against both of them.
Aung San Suu Kyi is facing charges of possession of unlawful communication devices – walkie-talkies used by her security staff, while President Win Myint is facing charges of breaching COVID-19 rules while campaigning for last November's election.
A gradual liberalisation began in 2010 was a result of Aung San Suu Kyi's years of campaigning for democratic reforms.
Military Coup In Myanmar – International reaction
United Nations –
UN secretary-general, Antonio Guterres said
We'll do everything we can to mobilise all the key actors of the international community to put enough pressure on Myanmar to make sure that this coup fails,

It's absolutely unacceptable to reverse the result of the elections and the will of the people.
Western countries –
condemned the coup unreservedly.
China –
Beijing warned action against Myanmar's military coup saying that the sanctions or international pressure will only make things worse.
Russia –
It has repeatedly protected Myanmar from criticism at the UN over the military crackdown on the Muslim minority Rohingya population.
G-7 Countries –
the military's restrictions on information flows are deeply concerning. Civilians, including civil society and the media, must not be subject to reprisals in any form,
About Myanmar
Myanmar, also known as Burma was ruled by an oppressive military government from 1962 to 2011. It is a country in South East Asia which shares borders with India, China, Thailand, Bangladesh and Laos.