Iran is trending towards an economic collapse because of US policies. The United States of America administration has re-imposed sanctions on Iran.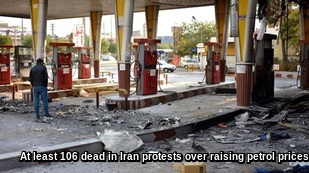 With over an 80 million population, Iran is facing an economic crisis. Iranian currency "Rial" has fallen to a low level compared to the US dollar (1,23,000 rial = 1$).
Adding to the Sanctions, the US also withdrew from 205 Nuclear deal with Iran unilaterally. Because of all these situations, the fuel prices in Iran were hiked. Though Iran's President Hassan Rouhani promised to use these funds on welfare schemes for low-income families, the protests sparked all of a sudden.
Nearly in 100 cities, the protests spread rapidly. Of course, the streets of Tehran remained peaceful. But unofficial reports suggest that the death toll is around 100-200 people during these protests. State media reports published some of the damaged petrol bunks as well as mosques.
On the other hand, Iran's administrative sources hinted of strict action against the protestors. The officials went on stating that the protestors who were responsible for violence may be punished severely and they even may be hanged.
Moreover, Human Rights Organization from the United Nations has also expressed deep sorrow over the ongoing unrest in Iran. The protests and violence for the past 1 week have affected approximately 100 banks and other government institutions. The economy is feared to be paralyzed due to these violent incidents in the country.
However, the Iran government has not officially announced any of the reports related to these violent incidents and the number of deaths during these protests.
police have taken many steps to avoid the spreading of these protests by blocking the internet completely in Iran. The police officials have stated that these measures were necessary to confine the spreading of news related to the violence and photographs sharing via social media.