Powerful Rajapaksa dynasty marks a return in Sri Lankan elections 2019. Gotabaya Rajapaksa defeated his opponent Sajith Premadasa by 13 lakh votes.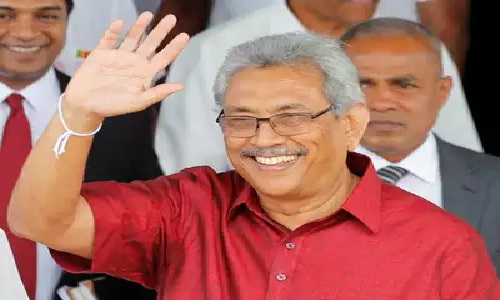 Gotabaya Rajapaksa was officially declared as the next Sri Lankan president after the polls conducted on Sunday. Sri Lanka was facing a security tight situation after the Easter Sunday Attacks which killed 269 people.
President Maithripala Sirisena's term has ended and the newly elected Gotabaya Rajapaksa will take oath on Monday 18, 2019. He will be the second member from Rajapaksa family.
In Mahinda Rajapaksa was the first member to be elected as Sri Lankan president. Mahinda Rajapaksa was the Sri Lankan president from 2005 to 2015.
Now, Gotabaya Rajapaksa, the younger brother of Mahinda will be the second in Rajapaksa dynasty to rule Sri Lanka as President. He served the country for 10 years as a top defence ministry bureaucrat.
Gotabaya secured 52.25% (69,24,255 votes) where as his opponent Premadasa secured 41.99% (55,64,239 votes) and the remaining 5.76% was secured by others. He is the 7th executive President for Sri Lanka. After his win Gotabaya tweeted –
As we usher in a new journey for Sri Lanka, we must remember that all Sri Lankans are part of this journey. Let us rejoice peacefully, with dignity and discipline in the same manner in which we campaigned. pic.twitter.com/tXqLrdH3Qv

— Gotabaya Rajapaksa (@GotabayaR) November 17, 2019

Gotabaya is more lenient towards China as compared to Premadasa's lenience towards India and China. Present Sri Lankan Prime Minister Ranil Wickremesinghe will remain in office unless he resigns himself. Reports suggest that Wickremesinghe may resign.
Premadasa also tweeted congratulating Gotabaya on his win –
It is my privilege to honour the people's decision and congratulate Mr. Gotabaya Rajapaksa on his election. I am grateful to our citizens who voted for me. I am humbled that you placed your faith in me. Your support has been a fountain of strength throughout my political career. pic.twitter.com/CGYy1NCth2

— Sajith Premadasa (@sajithpremadasa) November 17, 2019

Also, as per the Sri Lanka's constitution, the Parliament cannot be dissolved till February 2020.
Once, Wickremesinghe resigns, it is expected that the new president Gotabaya may appoint Mahinda as new Prime Minister.
Mahinda in a statement has hinted of adopting 2015 constitutional amendment. As per this amendment, a candidate cannot contest in Presidential elections or for judiciary posts or for public service posts.